Football Victoria Player registrations and Fees –
ACTION REQUIRED!
REGISTER NOW, IF YOU WANT TO PLAY THIS SEASON.
15 Mar 21.
We are quickly approaching the start of the season with the men's team kicking off this weekend.
For those playing Football Victoria (both male and female teams) YOU NEED TO REGISTER IMMEDIATELY.
I cannot do this for you, and without this, you cannot play.
To register please go to the following link and follow the instructions.  It takes 5 mins  – https://registration.playfootball.com.au/common/pages/reg/WelcomeRegPlus.aspx?entityid=38191&save=0
If the link fails, go to https://www.playfootball.com.au/ and follow the onscreen instructions.
When searching for the club:    Postcode = 3016.       Click on the "3"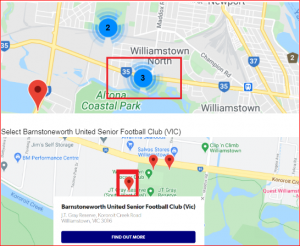 Select Barnstoneworth United Senior Football Club (VIC)
FEES
COVID hit the club hard last year with a number of league and player fees retained by Football Victoria so we need EVERYONE to pay their fees ASAP.
No pay, no play will be upheld. 
Fee details are as follows:If you have any questions or issues paying the fees please let me know ASAP.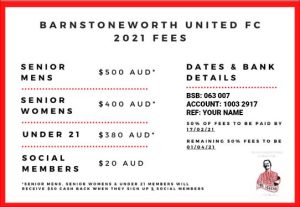 Thanks all, John Roughton, on behalf of Steve Taylor
Club Secretary. Barnstoneworth United Football Club
http://www.barnstoneworth.com/.  m : 0422 321 597
e: barnstoneworthsecretary@gmail.com