Games played 20-21 March 2021
Sat 20 Mar 21.
The Seniors and Reserves began their campaigns to win the Leagues today.
The Reserves lost 6 – 0.
See tables below for Seniors Result, and League placement.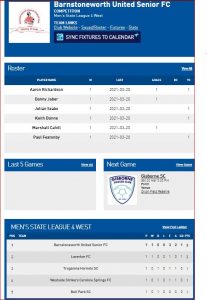 Sun. 21 Mar 21.
The Premier league team had a inter-club match, against the over 45's today.
It hadn't stopped raining all night, and it decided to continue all day as well, which put a little bit of a damper on the game.
Whilst the 45's kept them to withing a few goals, the most important thing was that Coach Risse, and Coach Taylor, of the 45's, got to see their respective teams in action prior to them playing their first League games, in a few weeks.
Paterson B.